2019 Premium Notebooks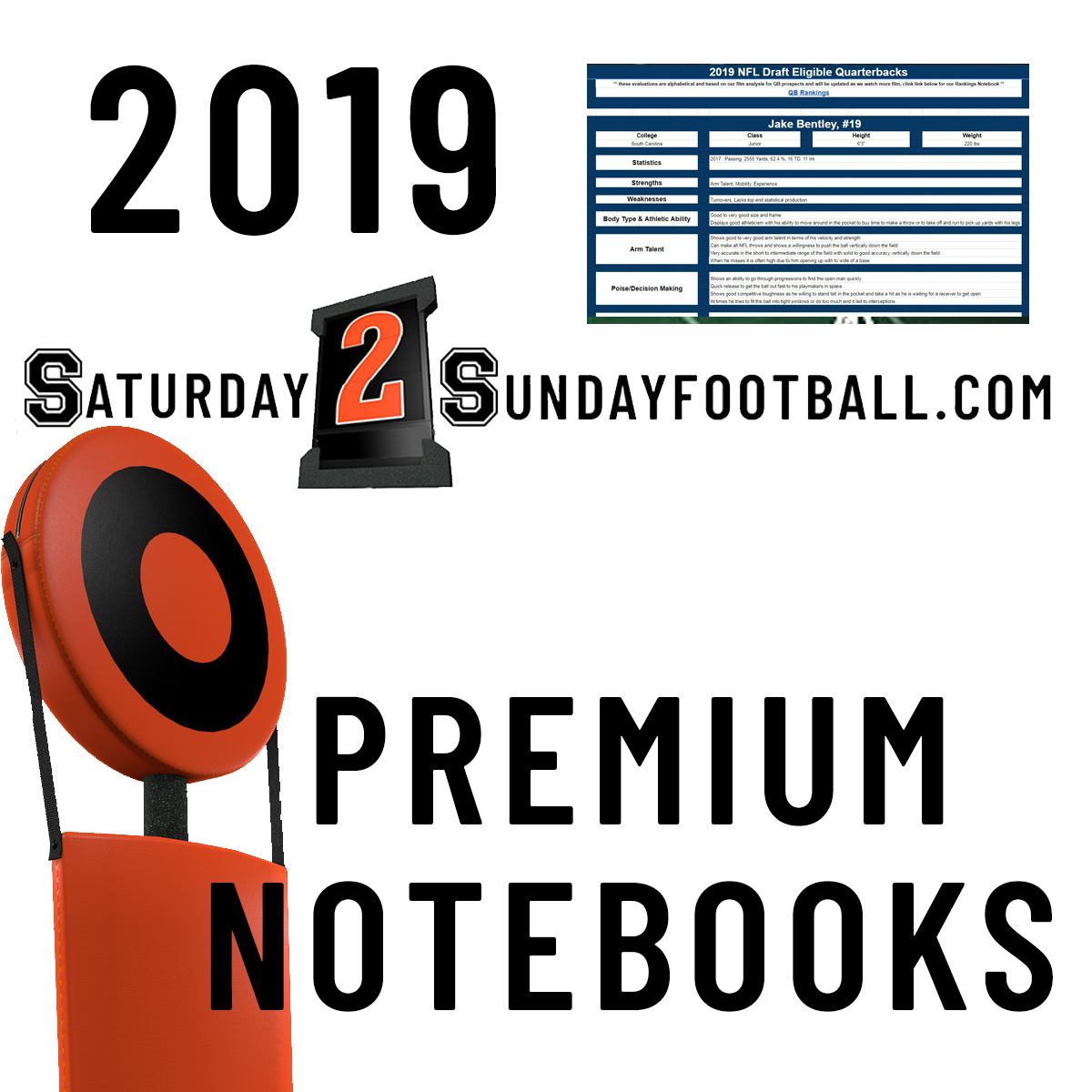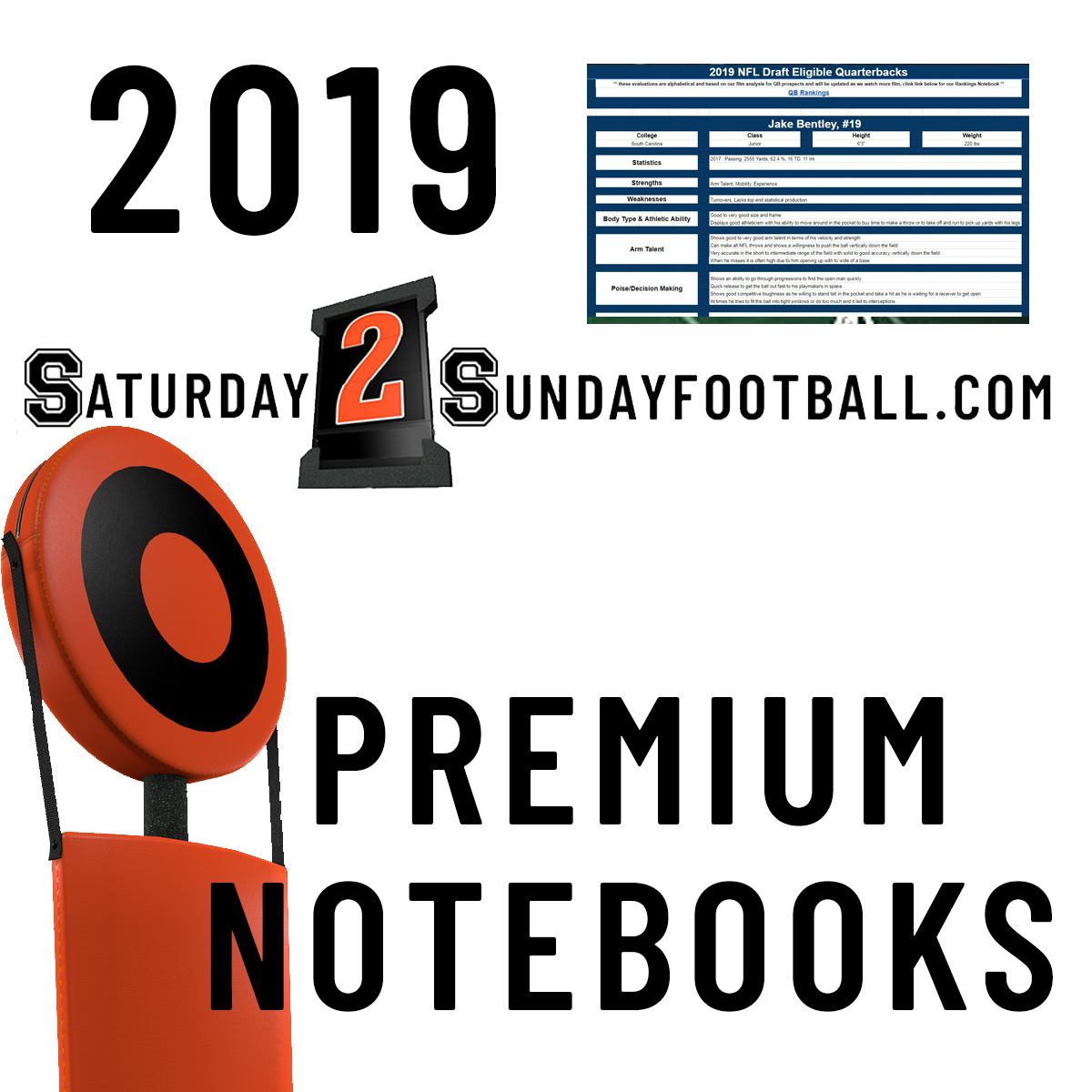 2019 Premium Notebooks
The Saturday2Sunday Football premium products will consist of 4 notebooks for $9.99. When you purchase the premium products you will get a confirmation email that will give you a file to download, which will give you instructions on how to access the premium products. In the instructions you will be given links to all four of the premium notebooks. Please save this email or bookmark the four links. If you have a Gmail account, you will also be given access to these notebooks on the google sheets apps on your phone, tablet or computer once the notebook is shared with you via the google platform.
The first notebook, which you will have access to immediately, is the 2019 Saturday2Sunday Scouting Notebook. This will contain our film analysis on every prospect we have watched. There will be tabs for draft eligible quarterbacks, running backs, wide receivers, and tight ends. We have already done film analysis on 16 Quarterbacks, 12 Tight Ends, 26 Wide receivers and 20 running backs. For each player the film notes will list their school, statistics, height, weight, strengths, weaknesses, athleticism, body type, how they win, scheme fit and NFL Draft projection. In addition, quarterbacks will have notes on arm talent and decision making, running backs will have notes on rushing and receiving ability, wide receivers will have notes on route running and hands and for tight ends there will be notes on receiving and blocking ability. One of the most intriguing components of the Scouting Notebook is that we will update it during the year and after the season as we get access to more film. We will also continue to add more prospects all season and after the season as well. Following the season, we will also convert it to more of an NFL Draft guide as well for the offensive skill players. In addition to all our film notes in this notebook, there will be watch list tabs for additional draft eligible and underclassmen prospects. As a bonus, in the 2019 Scouting Notebook, we have included tabs for the entire 2018 Freshmen Notebook, which will give you profiles on close to 50 incoming Freshman prospects for the 2018 College Football Season.
The second notebook, which you will also have access to immediately, is the Saturday2Sunday Rankings Notebook. This notebook will consists of our draft eligible rankings based on film studies this summer, our devy rankings, freshmen rankings and our dynasty rookie rankings. These rankings are sorted by position and there is an overall big board for each as well. These rankings will be updated regularly throughout the year as well.
The third notebook, which will be released in February or March is the 2019 Freshmen Notebook. This notebook will include film analysis and profiles on many of the top incoming freshman as they get set to start their college careers. This notebook will include freshman rankings, an overall big board, their measurements, athletic testing and a summary of their traits. This will be a must have for any Devy drafter next spring.
The fourth and final notebook will be the Draft Projection notebook. This notebook will be released prior to the 2019 NFL Draft. It will consist of tabs for every position (offensive and defensive). The prospects will be listed in the order that from all the resources I have collected I expect them to be selected. This notebook will contain each prospects measurements if they participated in the NFL Combine, some notes/traits, in addition to their best NFL position and round projection. Also this notebook will have a Top 32 tab, Top 100 tab and Top 250 tab, which will try to accurately predict what players will be selected on night one, rounds one through three and then the entire NFL Draft. This past year, we correctly predicted 28 of the 32 prospects to be selected in Round 1, 85 of the 100 prospects selected in the first 100 picks and 201 of the 256 selected in the entire NFL Draft. It is a must have for any NFL Draft fan.